Dan K. Donuts
is the doughnut shop that appears in 
Seeing Eye Robber
. The shop was robbed by
Ralph Vagabond
, who mistook it for the bank.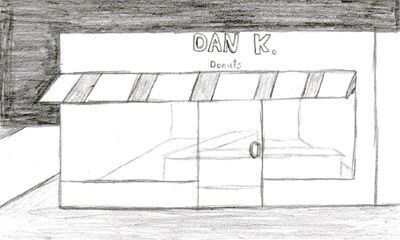 Location Details
Edit
No conceived history for the restaurant exists, but it is assumed that the shop was founded by a man named Dan, whose last initial was K. It is unknown if there is only one, or if there is a chain of Dan K. Donuts shops. In Alpha Team: Mission Deep City, it is stated that this is Chief Dunby's favorite doughnut shop, though he usually has his men get the doughnuts for him.
Characters of Residency
Edit
The following characters are commonly found at Dan K. Donuts.
The Dan K. Donuts doughnut shop is modeled after the doughnut shop for Yum Yum Donuts in the Vons shopping center in Canyon Country, CA.
The name Dan K. was selected because of its similarity to the word bank.
A bag sporting the Dan K. Donuts logo can be seen in the film Night Guard.
What the K stands for is currently unknown.
Ad blocker interference detected!
Wikia is a free-to-use site that makes money from advertising. We have a modified experience for viewers using ad blockers

Wikia is not accessible if you've made further modifications. Remove the custom ad blocker rule(s) and the page will load as expected.